Dir fällt es schwer, besondere Karten zu machen und du kaufst statt dessen lieber schnell eine für den nächsten Geburtstag? Dann kommt hier eine tolle und einfache Idee für dich, wie du schnell eine bezaubernde Karte gestalten kannst:

It's not easy for you to create a special card and instead you quickly buy a card for the next birthday? Well, here's an idea to get a simple and yet adorable little card: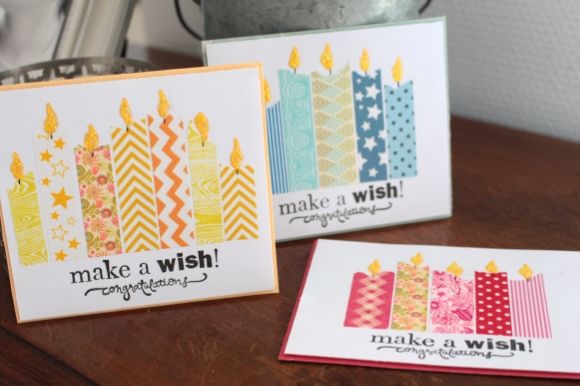 Du brauchst dafür nur verschiedene Rollen Washi-Tape, einen Stempel oder Stift und etwas Glitzer.
You just need several Washi-Tapes, a stamp or marker and some glitter.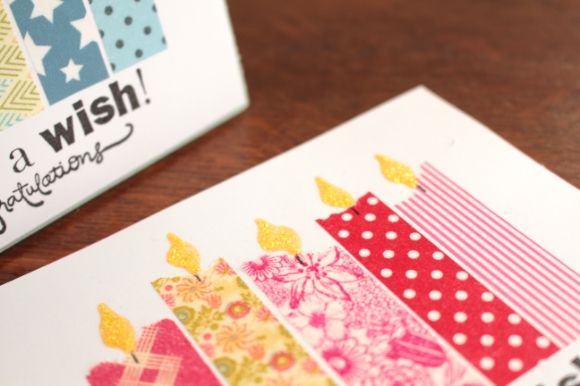 Stempel oder schreibe deinen Gruß mittig auf die Karte und klebe ein paar Streifen Washi-Tape parallel nebeneinander (5-7 Streifen je nach Größe).
Zeichne über jede "Kerze" mit schwarz einen "Docht" und zeichne mit einem gelben Stift oder gelbem Glitzer eine Flamme. Ta-daaaaa!
Stamp or write your greeting in the center of your card and put some strips of Washi-Tape above (5-7 strips depending on the size of the card and tape).
Draw a black "wick" on the "candles" and put a yellow flame on top with a yellow marker or glitter. Ta-daaaaa!